4 SEASONS CARPET & UPHOLSTERY
A husband and wife team, offering domestic and commercial professionally carpets, mattresses & upholstery cleaning service. Also specialise in leather & leather restoration for both domestic and commercial properties.
Funky Vibes were tasked with refreshing the company's branding and then applying it to a trifold leaflet and social media graphic templates.
Funky Vibes are very thorough and have an amazing attention to detail. Fantastic job – from a very happy customer
Andy Kneale – Owner
THE CHALLENGE
Refreshing a businesses brand is always a difficult task, particularly when budgets are restricted and there is existing marketing materials with their current branding displayed.
You need to strike a balance between modernising the style of a logo, without doing it to such an extent that it becomes unrecognisable to existing customers. We also needed to keep an element of similarity so as to allow the phasing out of the old logo on van decals, marketing flyers, clothing, business cards etc. when budget permitted but without creating a distinct jarring between the old and the new.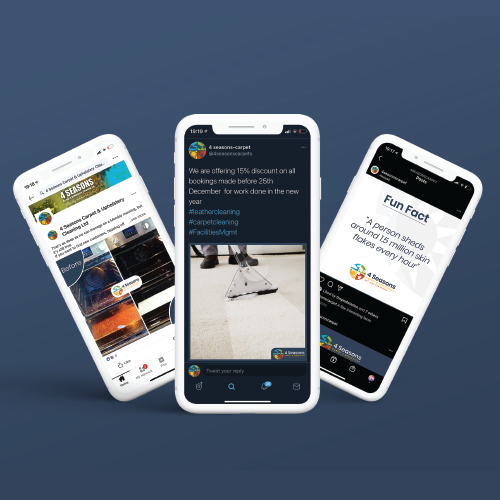 THE SOLUTION
The revised logo was designed to keep the same iconography and colours to that of the original version So it was very distinctly the same business.
We softened the icons with a more round shape and modernised it with the use of a different font.
This allowed us to refresh the branding styles which was subsequently used in the trifold flyer which was intended for mail drops and social media graphic templates to help promote their services online.