 One of the best agencies I have partnered with. From day one they took the time to really understand my needs. They work collaboratively and efficiently and go above and beyond to support your needs. They make it all so easy! Highly recommend.

Claire Grundy – Marketing Director
THE CHALLENGE
Having just bought out a long established dental practice, the new owners wanted to put their stamp on things with a fresh look that reflected their personality, and portrayed a more modern approach to providing dental care.
In their local area i.e. within just a few streets, there are a large number of other dental practices, so the brief was to help them to stand out from their competition with top quality marketing materials, branding etc.
With the physical practice needing so much investment, it was decided that we would begin by focusing on that and the existing patients. Once the practice had been completed and their existing database brought up to speed on the new look and feel, we would extend our focus to social media and the wider world.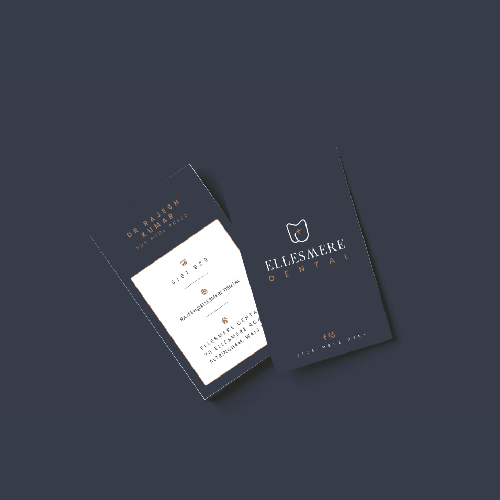 THE SOLUTION
It is important to stress that we are still very early on in the Ellesmere Dental story. So far we have designed a new, more modern and unique logo, including brand colours which the client's helped choose.
We have then begun to build a brand identity, starting with basic materials such as business cards and email signatures. The short term plan is to introduce a new website, as well as help with the redecoration of their practice to match the brand style we have created. We will then provide the promotional materials, such as posters, pull-up banners and leaflets to put in the practice, before moving on to custom film and photography which will form part of our social media plan.
In essence there is a great deal that will happen over the next 6 months, so watch this space!