Funky Vibes is by far the best marketing Guru i've come across. Their personal approach to your business gives you confidence in what services they provide. I cant thank them enough for everything they've done for my business.

Zak Amans – Founder
THE CHALLENGE
The Grassroots Network was a brand new business concept and needed branding from the foundation up. 
We were tasked with creating a logo and brand style that would be eye-catching. professional, and portray the subject matter quickly and in a way so as to appeal to their target audience – those being people involved in the grassroots game, from referees, league representatives, clubs, coaches and players.
The guys also wanted to launch a podcast talking all things 'Grassroots football' but had not idea where to start.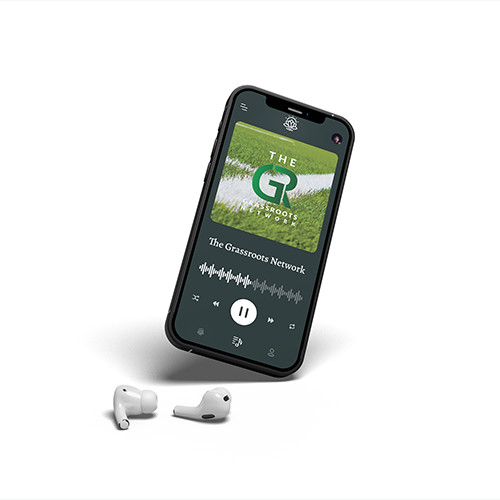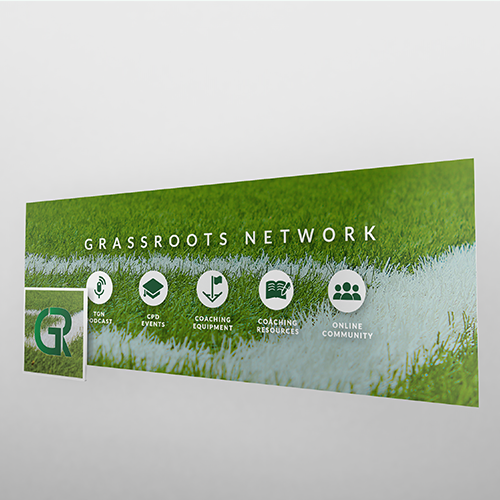 THE SOLUTION
The name of the business gave us the basis of the brand design. Grass is an essential component to the game. The look and smell evoke memories of sporting triumphs, failures, happy times and sad ones. It creates a feeling of being outdoors, the wind in your face, the sun on your skin. It is what is used from the best leagues in the world to toddlers and was the perfect visual basis. 
As for the logo, well the font we used is quite strong. We wanted it to represent the goalposts used in sports. It is modern, giving the impression of a forward facing company, but solid and dependable, like those who prop up the grassroots game.
It was important the icon element could stand alone as a favicon, allowing it to be put onto clothing. Again, we carried the green grass theme into this single continuous letter. We merged them for stylistic reasons, but in a way that means the white spaces still allows the eye to picture the vertical element of the R so it is clearly recognisable as a letter.
For the podcast, we created the show artwork and recorded/edited the shows drops (intros & outros) to ensure it had a professional production value. We also spent time with the client to train them on what equipment to buy, how to use it and how to record/edit.