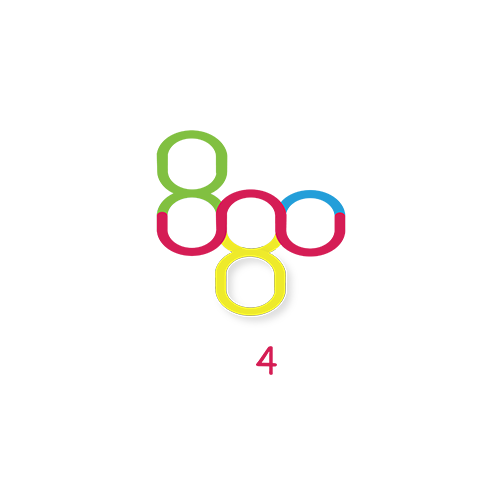 Working4Autism is committed to improving, safeguarding and promoting the welfare of children, young people and adults with autism spectrum conditions and associated learning differences and disabilities. They help people to find their own solutions to acknowledge, respect and address learning differences.
Working4Autism provide many different levels of support including one-to-one outreach, health and fitness activities, social and special interest groups and therapeutic support involving CBT and solution focus. They also provide strategies that help with mindfulness, positive behaviour support and transition packages which enable those on the autism spectrum to become less anxious and more confident, in turn helping them maintain their wellbeing, independence and meaningful activity.
THE CHALLENGE
Working 4 Autism came to us as a brand new start up, with no branding or marketing materials and a fixed budget.
As a start-up business, they needed a logo, brand guidelines creating, and all of their basic stationary materials designing. Due to the nature of their industry and services, it was important that any branding portrayed a bright, positive message to resonate with their target market.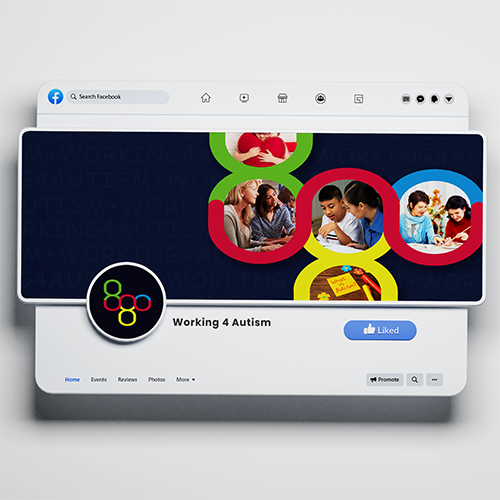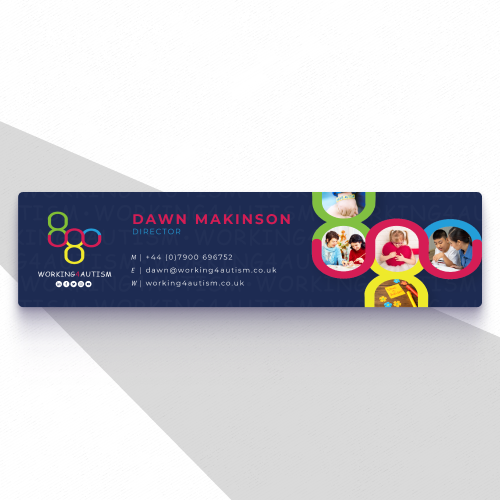 THE SOLUTION
One of the most common colour associations used to represent autism is the rainbow spectrum. Instead of choosing just one colour, the range of colours inside the rainbow represents the scope of abilities and diagnoses on the autism spectrum – highlighting the variety of abilities and challenges each faces. We wanted to incorporate those colours into the logo, but whilst trying to avoid the more commonplace autism figure of eight symbol.
The symbol for autism is usually a puzzle piece that signifies the complexity of the autism spectrum and a ribbon to represent the diversity of individuals with autism and their families. We took both concepts and incorporated them into the figure 4 within the logo. Unlike the puzzle piece, our client was adamant that the pieces should remain who to show that having autism did not mean you had to stand apart from society.
The imagery used in the social media profile was deliberately intended to showcase adults as well as children receiving support – to avoid the easy mistake of overlooking the adult element of society W4A can support.